Alkylation
ProMax's new Alkylation block enables the user to simulate complete HF and Sulfuric Acid Alkylation units in a single simulation! Let our staff help you construct and solve these complex models, allowing you to get to the real problem solving you need.
Overview
Select either HF or Sulfuric Acid alkylation reactors with predefined kinetic parameters
Model both Actively Cooled or Adiabatic Reactors
Calculate inlet iso-butane/olefin ratio as well as acid/hydrocarbon ratio
Utilize 18 different simultaneous reactions specific to alkylation
Perform dependable flashes with industry leading VLLE predictions
Thermodynamics
Upgrades to Acid/Hydrocarbon and acid/water VLLE allow for accurate simulation of associated separation, fractionation, and refrigeration processes. The thermodynamic enhancements make the simulation of HF Acid Regenerators accurate and easy.
Predict HF/H2O azeotrope accurately using the specialized Polar PR or Polar SRK
Calculate alkylate properties, including RON, RVP, %C9+, and D86 values
Analyze the distribution of acid in cases of acid carryover from the settler
State of the art GHOSH method for Ron Prediction
Sulfuric Acid/Hydrocarbon distribution in VLLE systems
Sulfuric acid strength management
HF Alkylation
ProMax 5.0 allows the user to model a complete HF unit with a high degree of certainty. Out technical service and support helps creating the model and matching operating data simple and straightforward. Use the model to improve performance by:
Optimizing iso/olefin ratio
Evaluating tower hydraulic capacity
Reducing HF losses in Acid Regenerator
Evaluating alternative feed compositions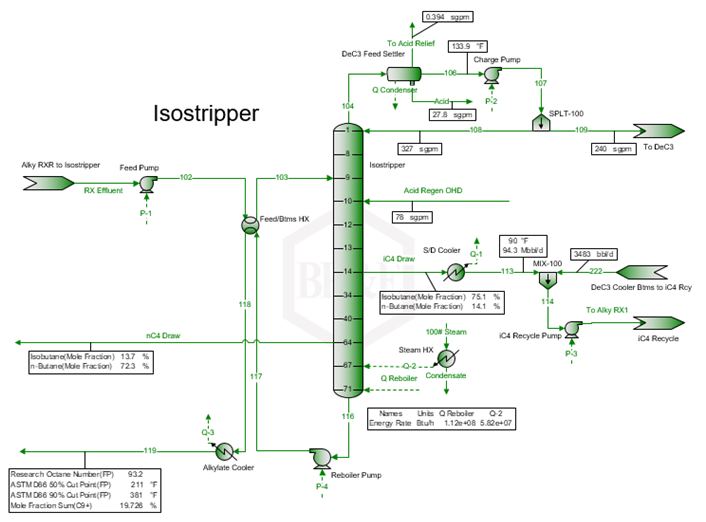 The accurate VLLE predictions in ProMax 5.0 allows you to quickly troubleshoot acid regeneration systems and improve performance.
Adjust isobutane reflux
Find the optimal acid inlet temperature
Evaluate bottoms temperature
Monitor overhead temperature to avoid corrosion
Study stripping isobutane or reboiler steam rates
Gain insight about where acid phases form
Sulfuric Acid Alkylation
ProMax 5.0 allows the user to model a complete Sulfuric Acid unit with a high degree of certainty. Out technical service and support helps creating the model and matching operating data simple and straightforward. Use the model to improve performance by:
Optimizing iso/olefin ratio
Evaluating tower hydraulic capacity
Evaluating alternate feed compositions
Optimizing sulfuric acid strength
Optimizing sulfuric acid refrigeration system